Our Mission
We are committed to telling your unique story in an authentic, meaningful way. It is our hope that through our interviews with your relative, we will record the stories you've always loved, explore the ones you may have never heard and preserve the memories future generations will cherish.

Company History

In My Day is a personal historian company in the Boston area. The vision of Cassandra Baptista, Founder and Personal Historian, In My Day was inspired by her childhood experiences of listening to the stories of older adults.
Founder's Story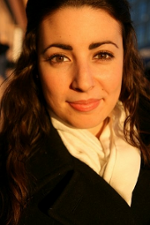 Founder and Personal Historian Cassandra Baptista developed an appreciation for older adults' stories from an early age. Her mother, a senior care provider, often brought Cassandra with her as she took care of her elderly clients.
Over the years, Cassandra formed close friendships with these seniors, listening to their stories and making new memories together. Now as a journalist, Cassandra has spent time covering the senior sector, writing for Boston's Seniority Magazine and working at the MA/NH Alzheimer's Association.